Rehabilitation Counseling Master's of Science (Online)
The purpose of this Rehabilitation Counseling program is to assist people with disabilities in living a full, independent, and meaningful lives.
SERVING COMMUNITIES IN NEED
Rehabilitation counselors help people with physical, mental, developmental, or emotional disabilities live independently. They work in a variety of settings, such as community rehabilitation centers, senior citizen centers, and youth guidance organizations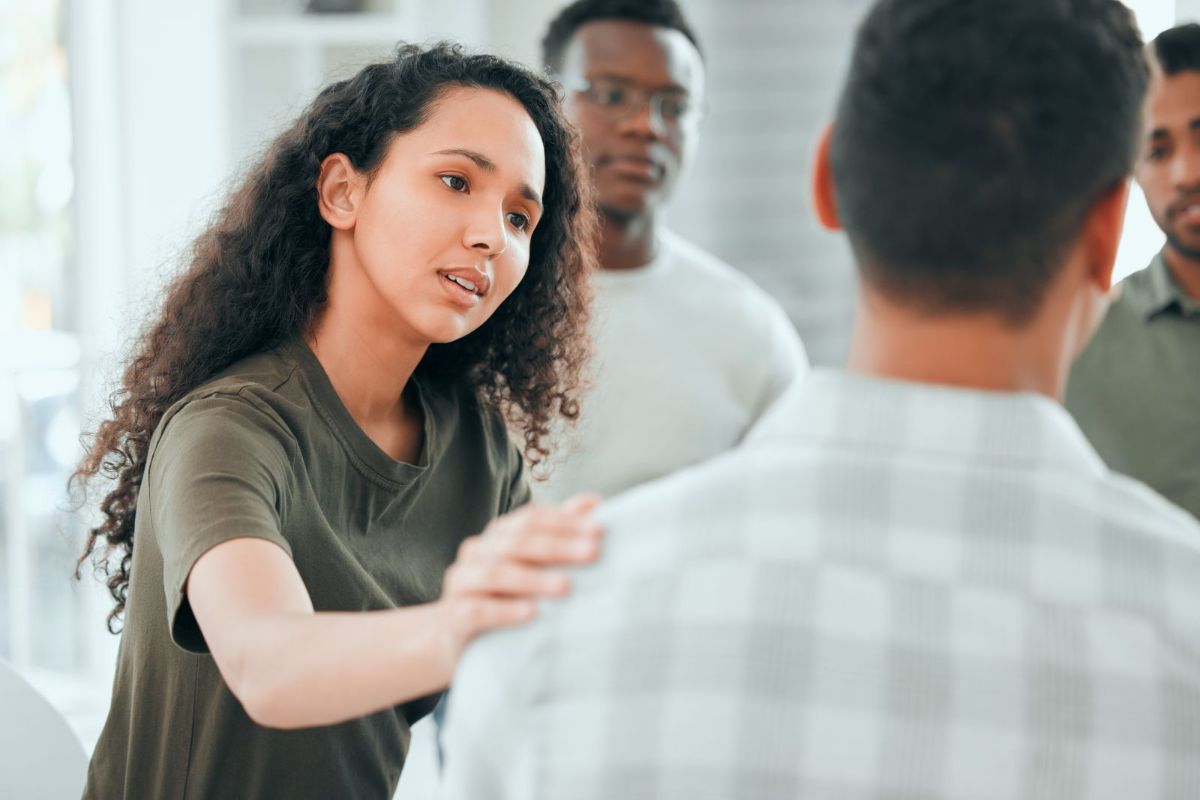 The Master of Science Degree in Rehabilitation Counseling is a sixty-one (61) semester-hour program within the Department of Counseling and is fully accredited as a traditional Rehabilitation Counseling program by the nationally recognized Council for Accreditation of Counseling and Related Educational Programs (CACREP) for a period of eight years beginning July 2015 through July 2023. The Rehabilitation Counseling program will apply in the future for the Clinical Rehabilitation Counseling accreditation under CACREP with the current sixty-one-hour curriculum constructed to be evaluated under CACREP 2016 standards.
Online
This program is available as a fully online program only. Some courses are offered as a hybrid, including Fundamentals of Statistics and Measurement. For more information, call (478) 825-6338 or email graduatestudies@fvsu.edu.

The program is administered through the College of Education.
Program Mission
The mission of the Fort Valley State Clinical Rehabilitation counseling and Case management program is to prepare and promote the effective delivery of rehabilitation services to individuals with disabilities. The Rehabilitation program philosophy is to help prepare professionals to empower persons with disabilities to help themselves. We seek to prepare graduates who have demonstrated through academic and practical achievements the skills, knowledge and attitudes that they will need to serve the on-going needs of those who are disabled. Such mastery includes the rehabilitation services provision to individuals with different types of needs.
Program Objectives
The implementation objectives for the Clinical Rehabilitation Counseling program are as follows:
To provide a quality curriculum representative of the skills and competencies needed to serve consumers with disabilities in a variety of settings and capacities;
To provide academic and experiential opportunities in accordance with standards established by Fort Valley State University, departments, and appropriate accrediting and certifying agencies;
To provide opportunities for students to be interactive with individuals with various types of disabilities;
To make our program accessible to persons from diverse backgrounds;
To make the Clinical Rehabilitation Counseling program more visible at local, state, national, and international levels; and
To provide quality clinical counseling skills development and ethical training for students.
To recruit and retain students to be competent rehabilitation counselors in their knowledge, skills and dispositional standards according to the CRCC code of professional ethics and the licensing body of CACREP
To train and prepare students to conceptualize rehabilitation counseling services and interventions for people with disabilities from a holistic perspective.
To graduate students from the program who are competent in working with a wide of disabilities and rehabilitation settings.
To train students who are prepared to be active community partners and leaders in their field.
To provide a wide spectrum of evidence-based knowledge and practice of rehabilitation counseling for all students.
To provide students a platform to seek new knowledge through research for the profession
To provide curriculum that focus on interventions such as technological and resources development to individuals with disabilities and the community
Graduation Requirements
Each graduate must have an academic grade-point average (computed overall graduate work attempted) of at least 3.00 (B average). Students who fall below an overall GPA of 3.00 are placed on probation and sent formal notice that they have two (2) semesters to raise their overall GAP to at least 3.00 or will receive a formal notice of dismissal. In addition, all candidates for graduation must take and pass the Final Written Comprehensive Examination.
Support Services
The Bond Building computer laboratory is available to enrolled students, as is the Warner Robins Center computer lab. Library facilities are available in the Hubbard Education Building, Warner Robins Center, and the main library. The Galileo System is available on the Desire to Learn platform for online students.
Research
Students may pursue their research initiatives under the guidance of faculty. However, faculty members and students may collaboratively work on research projects. Some employment outcomes include ethnic minorities with disabilities, multiculturalism, spirituality, rehabilitation, and attitudes toward individuals with disabilities.
Course Requirements for the MS in Clinical Rehabilitation (61 Hours)
First Year/Fall Semester
Course Requirements for the MS in Clinical Rehabilitation (61 Hours)
Subject
Course No.
Course Name
Credit Hours
FVSU
0500
Orientation for Graduate Studies
0
CLRC
5413
Ethical and Professional Case Management
3
COUN
5623
Counseling Theories and Process
3
COUN
5453
Psychopathology
3
First Year/Spring Semester
First Year/Spring Semester
Subject
Course No.
Course Name
Credit Hours
CLRC
5423
Medical Case Management
3
COUN
5733
Assessment and Testing
3
COUN
5733
Diagnosing and Treatment Planning
3
COUN
5633
Group Theory & Process
3
First Year/Summer Semester
First Year/Summer Semester
Subject
Course No.
Course Name
Credit Hours
CLRC
5441
Practicum
3
CLRC
5473
Introduction to Rehab Tech
3
CLRC
5475
Crisis Counseling
3
CLRC
5432
Psychiatric Rehabilitation
3
Second Year/Fall Semester
Second Year/Fall Semester
Subject
Course No.
Course Name
Credit Hours
CLRC
5463
Vocational Rehabilitation
3
CLRC
5433
Substance and Addictions Counseling
3
CLRC
5633
Research & Program Evaluation
3
CLRC
5463
Human Growth and Development
3
Second Year/Spring Semester
Second Year/Spring Semester
Subject
Course No.
Course Name
Credit Hours
COUN
5643
Family Counseling and Guidance
3
CLRC
5464
Private Sector Rehab
3
COUN
5553
Multicultural Counseling
3
CLRC
6001
Comprehensive Review (Required)
3
COUN
5543
Career and Lifestyle Development
3
Third Year
Third Year
Subject
Course No.
Course Name
Credit Hours
CLRC
5706
Internship
3-6
Program Requirements
The practicum and internship experiences must include working with individuals with various disabilities (i.e., physical; mental).
The practicum and internship will be during the regular workday, given that vocational rehabilitation outcomes (e.g., job development and placement) are necessary components of the experiences based on accreditation mandates.
Students cannot use their regular, full-time job for the experiences unless they complete different activities than their usual duties that satisfy the necessary outcomes. Students will find it extremely difficult to work full-time in a current position and complete the required hours for their experiential components, especially the internship.
The Practicum requires 100 hours (40 hours of direct service to consumers), and the internship requires 600 hours over one semester (240 hours of direct service to consumers) or two semesters of 300 hours (120 hours of direct service to consumers per semester).
Students must have the appropriate technology to be admitted and participate in program activities. These required technologies include a working mic and webcam. Additionally, students must use a paid proctoring service (e.g., ProctorU) to sit for the Comprehensive Examination.
Students who wish to sit for state licensure after completing the CLRC program and obtaining their national certification as Rehabilitation Counselors should contact their respective state licensure boards for additional requirements.
Admission Application Requirements
A Completed Graduate Application
Application Processing Fee (non-refundable)

$20 – Domestic Applicants
$75 – International Applicants

A Professional Resume
A Statement of Purpose

The statement must be between 550-600 words. The Statement of Purpose should be in essay format and include personal characteristics/disposition, professional goals, academic background, research, work/volunteer experience and why you wish to pursue a graduate degree in the respective area.

Three Professional Recommendations

Letters of recommendation must be submitted using the FVSU Recommendation form for Graduate Admission.

Submit Official Transcripts from each postsecondary institution (College/University) attended showing a cumulative GPA of at least 2.75. The transcript should show all degrees and coursework, the dates awarded, and grades earned.
Immunization records

International Transcript Evaluation: Transcripts from educational institutions outside the United States must be evaluated by any current member of the National Association of Credential Evaluation Services (NACES) (https://www.naces.org/members.html) with a course-by-course evaluation and grade point average (GPA) included. The transcript must be received directly from the evaluation service/agency.
Meet the Faculty
The Counseling Department faculty at Fort Valley State University understand what it takes to succeed.
rehabilitation counseling
Related Links