Veterinary Technology
Georgia's only 4-year program helps students become highly knowledgeable in the use of equipment, computers, devices, and software applications in the care of animals.
DEVELOP SKILLS TO HELP BIG AND SMALL FRIENDS
FVSU's veterinary technology program is designed to give students a broad-based background in basic sciences as well as veterinary disciplines that will enable them to be successful in veterinary school or employed as veterinary technicians.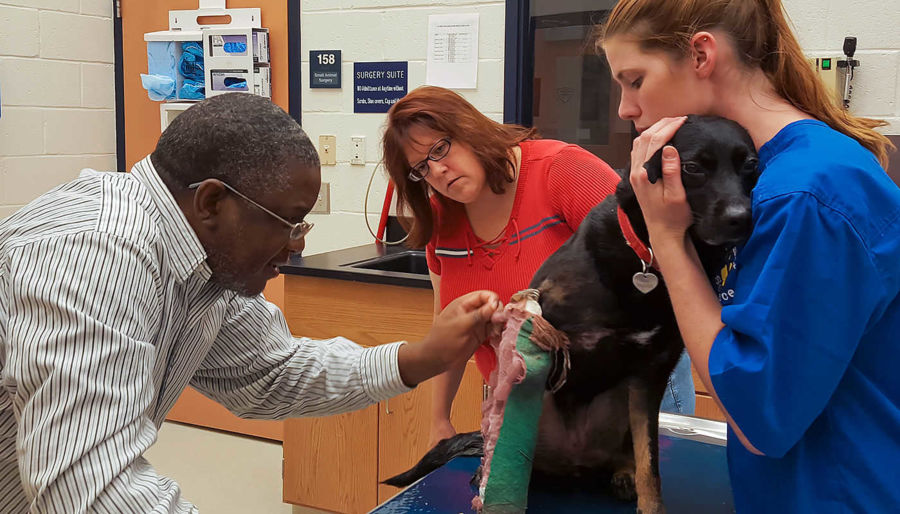 With a major in veterinary technology, graduates of FVSU's AVMA accredited veterinary technology program are eligible to take the Veterinary Technician National Exam. Students working toward this degree will complete the core curriculum designed for all bachelor's degrees and also take professional courses in veterinary science.
CAREER OPPORTUNITIES
Private Practice
Biomedical research
Military Service
Food Safety Inspection
Academia
Diagnostic Lab Jobs
Vet Supply Sales
Drug & Feed Company Service & Sales
ADMISSION REQUIREMENTS
To be admitted to the university high school students must have a GPA of 2.25 as well as an SAT score of 430 on Critical Thinking/Verbal and 400 on Math or an ACT score of 17 on English and 17 on Math.
Meet the Faculty
The Veterinary Science And Public Health Department faculty at Fort Valley State University understand what it takes to succeed.
Program Contact
George McCommon, D.V.M.
Asst. Professor
O'Neal Veterinary Science Building
Veterinary Technology
Related Links