About Wildcat Battalion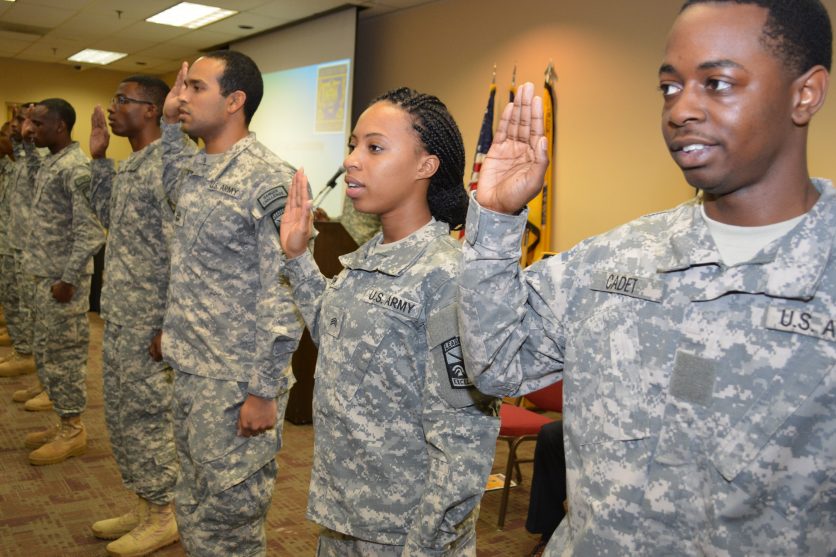 History of the Army Reserve Officers' Training Corps (ROTC)
Wildcat Battalion
In keeping with the agreement of the Land Grant Act of 1862, a Military Science Department was established on the Fort Valley State College campus in the fall of 1956. Mr. Frank M. Staley, a mathematics instructor, served as the first Commander of Cadets (September 1956 thru June 1957). His successor in September 1957 was Major H. A. Robinson, a retired Army chaplain. Mr. Alphonso Varner, Major Robinson's assistant, an instructor and a Lieutenant Colonel in the Army Reserve, succeeded Major Robinson as Commandant of Cadets in 1963 and remained in this position until June 1969. The program of instruction consisted of a two-year basic military training course which was required for all male students. This program did not offer a commission in the Active Army or its reserve components, nor did students enrolling in the ROTC program receive any academic credit.
The college asked for a ROTC program as early as 1952 and was denied the program then, as it had on several subsequent occasions, due to the lack of quotas for additional units. After several requests to start its own program, Fort Valley State was finally successful in constituting its first program in September 1969 under a cross-enrollment agreement with Mercer University in Macon, Georgia. A unit was established at the Fort Valley State campus offering an elective four-year program of instruction identical to the Mercer program.
Department of the Army subsequently authorized the establishment of an independent ROTC program at Fort Valley State college (now university) on 25 January 1972 and assigned Lieutenant Colonel Marion T. Porter as the Professor of Military Science. The program became operational during the fall quarter, School Year 1972-1973. The program started with all four ROTC classifications – MS I, MS II, MS III, MS IV. On 16 March 1973, the ROTC program awarded its first commission to Gregory E. Love, a transfer student from Georgia State University. Lieutenant Love was commissioned in the Signal Corps, USAR.
In 1976, Albany State College (now university) Ram Battalion became an extension center of the ROTC program at Fort Valley State College. In 1997, the Ram Battalion was deactivated and Albany ROTC became a part of the Fort Valley State University Wildcat Battalion.